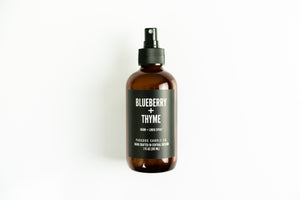 Refresh your home with our 7oz. Room and Linen Sprays! Perfect for spraying on your linens, towels, pillows, carpet, in your bathroom and even inside of your car.
A sweet and savory combination of Blueberries, Bergamot, Lemon, Rosemary, Thyme, Vanilla and Musk.
TO USE:
Shake well before spraying.
Hold sprayer 6 inches from a surface and spritz.
A couple sprays is all that is needed!
For use as Body Spray, use after showering. Apply to inside of wrists, knees and elbows, as well as neck, chest. Use as needed.
Ingredients: Organic Aloe Leaf Juice, Phenoxyethanol, Witch Hazel Water, Organic White Willow Bark Extract, Tea Tree Leaf Oil, Polysorbate 20, Organic Alcohol, Tetrasodium Glutamate Diacetate, Fragrance.